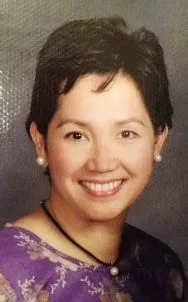 Dr. Pura Mayor-Chico has been practicing dentistry for over 20 years now. She received her license to practice dentistry in California in 1990. Dr. Mayor-Chico graduated from the University of the Philippines in March 1987, as one of the top students in her class. She was in the Top 10, in 7th place out of over a thousand candidates, of those who took the 1987 National Dental Board Exams. She migrated to the United States in 1988, and passed all the required exams by the National and California Dental Board of Examiners, the last of which she took in UCLA in 1990. She received her license to practice dentistry in June 1990.
Since then, Dr. Mayor-Chico, or "Dr. Pura", hasn't stopped educating herself to be a better dentist to her patients. She has taken several classes and enrolled in programs to hone and add to her skills, always striving to give the best care she's able to give a patient. She has taken Esthetic and Endodontic training programs through UCLA's Dept. of Continuing Education. She also attends many seminars at USC Herman Ostrow's School of Dentistry. In 1995 she finished a 2 year orthodontic course, designed for general practitioners, with Progressive Orthodontic Seminars (POS), an established and well-respected orthodontic training program. She has also studied the clear aligner orthodontic therapy program and is a certified provider of both Invisalign and ClearCorrect. She has been a member in good standing of the American Dental Association (ADA) and the California Dental Association (CDA). She belongs to the Orange County Dental Society. She established her own dental practice in 1999 and has been in her current location for the past 13 years. Her office address is Anaheim but borders the cities of Cypress, and Buena Park. The office is 1 block east of Cypress College on Orange Ave.
Realizing that technology is ever changing and that the practice of dentistry is always evolving, Dr. Pura diligently keeps abreast of the latest changes and advances in her field. This ensures her patients receive the most comprehensive and advanced dental care she's capable of giving. But never losing a down-to-earth and personal approach, her small but dedicated office team aims to make every dental visit a pleasant and comfortable one for each patient!